About Miriam Skydell And Associates, LLC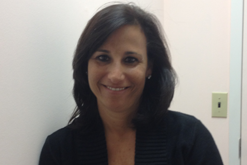 Miriam Skydell is the founder and director of Miriam Sydell and Associates, LLC. And the founder and developer of Sensory Bounce® Therapy and JumpTherapy LLC., The only known therapy program in the county that takes place at indoor inflatable bounce and trampoline parks.

Shortly after graduating from NYU with a Masters degree in 1986, she began her work in pediatrics and has been working with children for the past 30 years. Miriam Has been in private practice for 25 years, the last, 10 in Fair Lawn, where in August 2019 the office relocated to a brand new state of the art facility. Aside from her private practice, Miriam Skydell and Associates, LLC is a NJ DOE state approved agency that contracts experienced OTs, PTs and STs to numerous private and public school districts in Bergen, Hudson and Essex counties.
In 2017, Miriam developed and introduced the concept of School based private OT which houses a designated sensory gym/ therapy room in school so that children who are not classified, but require OT services can be seen during the school day. Providing private therapy in the child's school setting has multiple benefits for the child, teachers and the parent. Miriam is the exclusive in house private OT for Yeshivat Noam, a private day school in Bergen county.
Miriam lectures extensively for parent and support groups as well as at teacher conferences.
Miriam is a licensed Interactive Metronome provider as well as a TLP (Listening Program) provider. She has taught HWT and helped to implement the Handwriting Without Tears curriculum in many public and non public school settings. She lectures extensively for parent and support groups as well as at teacher conferences.
Miriam has gained recognition for her expertise with children ages 2-10. With Autism Spectrum Disorders and Sensory Processing disorders becoming a reality for so many parents, Miriam has focused her practice on working both with children and the parents of children who struggle with the physical, emotional and social effects of these disorders. She believes in helping parents to focus on the strength and abilities of each child while incorporating behavior plans and strategies to foster success.
Miriam brings her love for children, personal understanding of parents struggling with a special needs child and years of therapy experience to every session.
Contact Miriam!