Miriam Skydell and Associates, LLC is a dynamic and progressive pediatric therapy practice that has been servicing children in and around Bergen County for more than 30 years. We specialize in and have earned recognition for our treatment of children with ADD/ADHD, Sensory Processing Dysfunctions (SPD), and Autistic Spectrum Disorders.
Our caring and dedicated therapists cater to the needs of children from birth to 14 years of age with a wide range of neurological, biological, and developmental disabilities.
Our brand new, fully equipped sensory gym (opened 8/2019) along with separate fine motor and tactile room allows us to utilize a multitude of treatment modalities including sensory integration therapy, fine and gross motor therapy, handwriting programs (HWT®,PAF®, Fundations®), music based auditory processing programs (The Listening Program® and Therapeutic Listening Program®), movement based social skill groups and assistive technology training. Every treatment session is designed to meet the individual needs of your child and to ensure that he/she meets his/her maximum potential.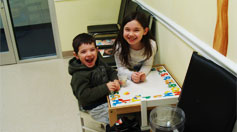 "At Miriam Skydell and Associates, LLC your child becomes our child and their success is our success. We take pride in offering a nurturing and caring environment where you and your child will feel safe and secure to explore, take risks and overcome challenges."
Please visit www.sensorybounce.com to learn about our bounce therapy program located at indoor inflatable venues across the east coast!